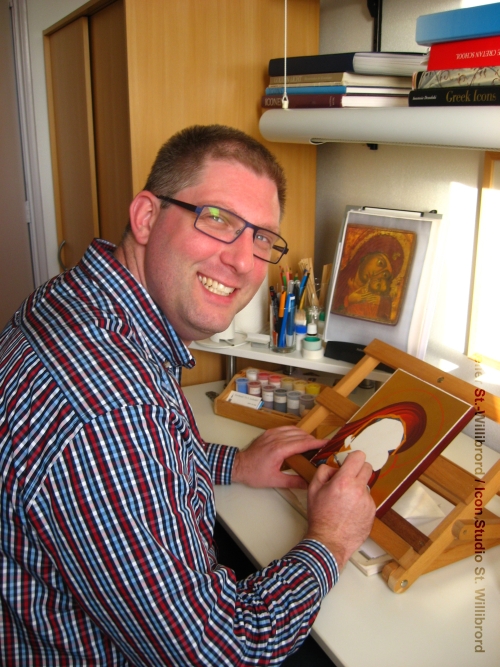 My name is William Rensen, therefore is my patron is St. Willibrord. Accordingly the name of my icon studio.
In my youth, I primarily drew. During my secondary school years some of my drawings were displayed in the hallways of my school. In that time my hobby was origami (the Japanese paperfolding art). Origami became a hobby for only the holidays and I searched for a new hobby.
The fascination to icons began during a visit to the oecumenical monastery in Taizé, France. In that monastery icons are used in the daily prayers. I bought some icons there. Back home I searched for a teacher in icon painting but didn't find what I looked for.
At the end of 2003 I searched again. This time I found someone, Jessica Heykoop in Deventer, the Netherlands. Jessica Heykoop is an allroud artist and I started January 2004 my first icon painting class with her. She paints in the Russian tradition. During this class, there was an icon exhibition in the museum Catharijneconvent in Utrecht because of a donation they received. During the exhibition Jan Verdonk, a professional icon painter in the Greek tradition, gave some workshops icon painting in the Greek tradition.
I signed in for one of his workshops. The result I got I liked more than the result I got with Jessica Heykoop in the Russian tradition. So I started taking classes with Jan Verdonk at the end of September 2004 in Utrecht, the Netherlands.
With Jan Verdonk I learned more about icons in general, the use of color and compsition of icons in the Greek tradition, particularly in the Cretan School.
Through classes and workshops I studied the old gilding method with bole.